《Why Not Hand Over a "Shelter" to Hermit Crabs? -White Chapel-》
AKI INOMATA《Why Not Hand Over a "Shelter" to Hermit Crabs? -White Chapel-》 from Aki Inomata on Vimeo.
What Do Women And Hermit Crabs Have In Common?
Yasuo A friend recommended your work to me because I often use hermit crabs as an example for explaining skin protection. Your site parallels my philosophy!
Aki I was shocked when you first reached out to me—I wasn't sure if it was really you!
Yasuo Your art is so cutesy, yet avant garde. How do you construct the [hermit crab's] shell?
Aki I design it using 3-D computer graphics and print it with a 3-D printer.
Yasuo What was your inspiration for the piece?
Aki I was thinking of work for a new exhibit when a friend mentioned her brother recently got some hermit crabs. The ideas just started coming.
Yasuo I once saw a photograph of a hermit crab shelled in styrofoam and trash. It made me realize that their homes can be composed of any object, and don't necessarily have to be natural or organic. I had a sort of "Aha!" moment when I eventually made the comparison to women's skin—just like the body of a hermit crab, it's incredibly delicate and vulnerable. It doesn't matter if women use organic OR artificial products to cover their skin, so long as they provide a form of protection and a barrier against irritants.
My family and I went on a trip to the beach, and while we were there, my daughter and I caught baby hermit crabs and kept them in a cup of sand and shells.
Aki Aw, baby hermit crabs are so cute.
Yasuo We watched them for about a week and noticed that they fought over shells. The big ones often took over the small ones.
Aki They fight when you put too many of them together, so I only get one at a time.
Yasuo They're just like humans!
Child's Play
Yasuo Do you ever draw boundaries between your art and personal life?
Aki Not really. I'm a daydreamer, so my mind is pretty much always in some sort of artistic world.
Yasuo You have such a unique outlook, so I figured you might not really contemplate how others might perceive you.
Aki Oh, no. I'm definitely conscious of what people think about me.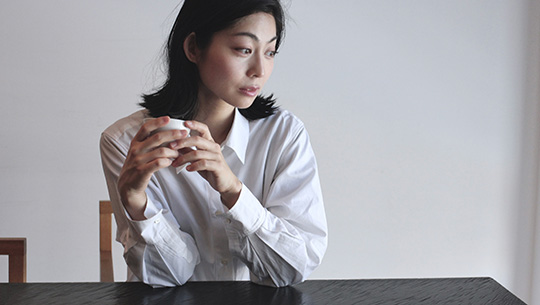 Yasuo Were you ever worried about people's reactions to your work?
Aki There's a difference between the work I make and who I truly am. I try to not take it too personally when people criticize or reflect on something I've created. I'm much more sensitive about comments regarding my personality.
Yasuo I used to feel like I was constantly exposing myself through my work, and it made me so self-conscious. These days, I'm trying to be more like you. The pure, girly qualities of your work make me feel almost childlike.
Aki I try to emulate that childlike way of approaching the world. As a child, I never made any noise and was constantly reminded of my maturity. When I create work, I'm always searching for that sense of innocence.
Trendy vs Timeless: What're The Differences?
Aki Recently, a lot of museums have begun buying and collecting my work. It's made me think more about how it will be perceived across generations—not just five to ten years from now, but one hundred. For example, magazines from five years ago already seem dated, but classic films have a different aura that allows them to transcend culture and time. I try to avoid what's "trendy" and instead focus my efforts on a sense of agelessness.
Yasuo That's a wonderful point—that kind of mentality exists within the finest of artists.
Aki People become obsessed with trends and it baffles me. Even in terms of makeup, there are looks that are timeless, and looks that are more of the moment. I'm constantly thinking about this dichotomy when I'm photographed.
Yasuo Designers often create collections based on a seasonal forecast, and typically, the world of beauty follows suit. When it comes to shopping for new pieces, trend forecasting allows for a certain kind of cohesiveness in seasonal wardrobes. The problem is, some trends don't work well for everyone, so you can't get too hung up on them.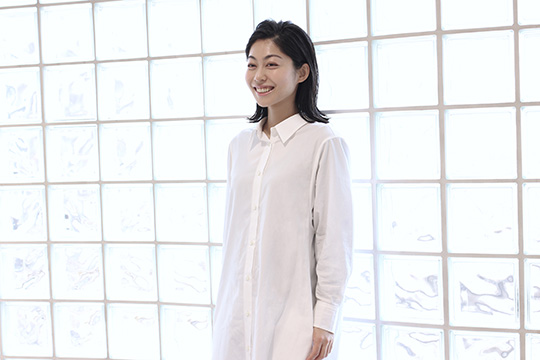 Aki That's quite true. It's nice to strike a balance between trendy and timeless.
Yasuo Definitely. Trends give you the opportunity to try new things.
Aki I do like that element of them. But, take Audrey Hepburn—an icon of timeless beauty. How do you explain that?
Yasuo Audrey Hepburn brought a new look to mainstream beauty. Many actresses before her wore very thin eyebrows, and she mixed it up with her fuller looks. I think it made an impression on viewers and Hollywood alike.
Aki That took some courage.
Yasuo Many women are not comfortable trying such different looks unless they feel encouraged and uplifted by those around them.
Don't Be Afraid To Keep It Real
Aki I'm amazed by whoever invented eyeshadow.
Yasuo Sometimes, light reflects a specific color onto eyelids depending on the time of day. I wonder if that's how it all started—the colors just became more nuanced and radiant.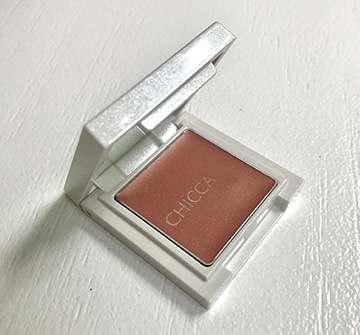 Aki Oh yes, that makes sense. I regularly use CHICCA's LID FLASH in the shade 04 Petal, and for photoshoots, I'll often combine it with a CHICCA eyeshadow. To top it off, I'll use FLOWFUSHI's MOTELINER Cherry Cheek eyeliner. It's very easy to use, however, I often apply far too much. I love the way you used it today! You can't really see it when photographed though.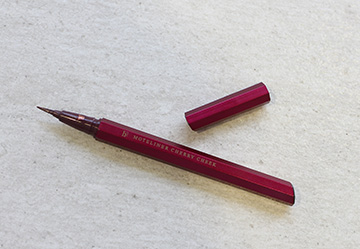 Yasuo This makeup isn't for the photoshoot, it's how you look for real! You're actually this beautiful and radiant. Unless it's a beauty shoot, makeup should not take center stage.
Aki That's a good point—we're not shooting a "How To" tutorial.
Yasuo You should go lightly on your makeup and try not to draw much attention to it. If anyone comments on it, you should assume it's already overdone.
Aki You're so right. Over the top makeup should be reserved for red-carpet events only.
Yasuo I would say that whenever one attends a formal event, they should strive for little to no makeup. You want people to think you're naturally beautiful!
Aki I want to do that, but I have a bad habit of over applying makeup whenever I get dressed up. I get insecure about being photographed, and worry about little things like the shape of my eyebrows.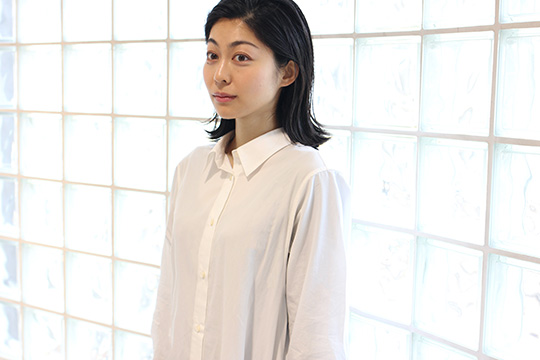 Yasuo I think you're honestly fine. Just like eyeliner, accented brows can sometimes seem too dramatic. Less is more.
Aki Understood! People often tell me I look like this actress, which makes me feel less unique.
Yasuo You should just take that as a compliment!
Aki I know, but it still bothers me from time to time.
Yasuo People are beginning to embrace themselves more and more, but as a society, we still have a long way to go. It's fun to play with makeup, but at the most basic level, you just want to highlight your individual beauty and not go overboard. Honestly, you look so beautiful with just a little bit of sheen. To achieve this look today, I lightly applied some Vaseline to your skin. Why not try it the next time you dress up? I think people would take notice.
Aki Really? I'm so glad. I love Vaseline. I use it on both my face and body. Sun White is my favorite, but I bring Pure Lip for when I go out. It's good to apply anywhere and everywhere. I'll also occasionally swap it out for some argan oil. I brought some from Spa Hinoki today.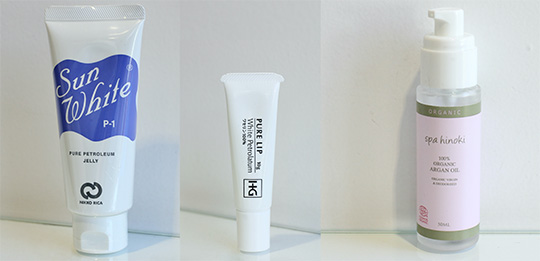 Yasuo Vaseline and argan oil are not only gentle on the skin, but they also have a high protective barrier effect. They cause little to no irritation and are really effective forms of skin care.
Aki I also love CHICCA's (Limited Edition) Beauty Glow Body Cream. I use it after a bath because the rice bran plumps and moisturizes my skin. I wish you could do my makeup every day! I want to try this look on my own, but it seems quite hard.
Yasuo Call me any time! You can also go for a luminescent, bare look and that will work just fine, too.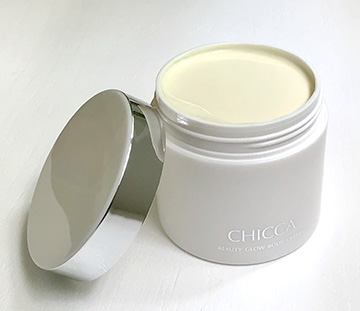 Photos / Interview : Yasuo Yoshikawa
Text : Mikako Koyama
Hair:Shinichi Fuyuki (sui)
Location:Sakurai Japanese Tea Experience