Striking A Balance
Yasuo Yoshikawa You've been editing fashion magazines for a long time now.
Yoko Yakushijin One of my university professors invited me to join Shueisha Publishing. I initially thought that I would be editing books, so I was surprised to be assigned to a fashion magazine.
Shortly after joining [Shueisha], I was assigned to MORE Magazine and then transitioned to BAILA for about seventeen years. Three years ago, I came back to MORE.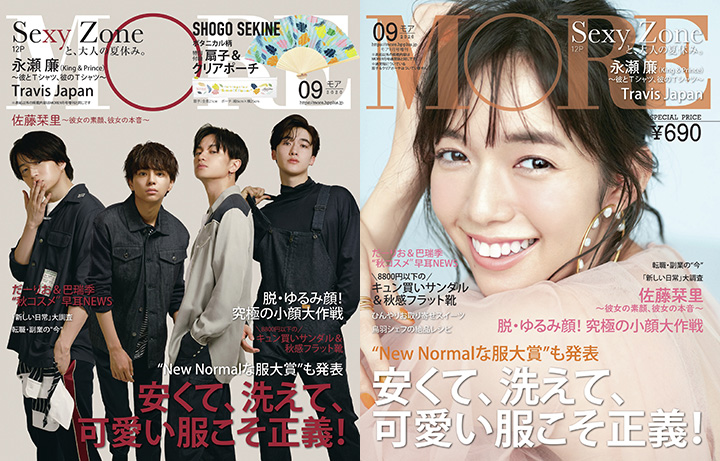 Yasuo How do you feel about the world of beauty?
Yoko When I first joined MORE, the beauty and fashion staff were all in one group, so I pretty much viewed them as the same thing. However, at a certain point, I realized that they're separate categories, even though I feel they should align in a more cohesive way. Now, when I'm editing theme plans, I do my best to harmonize the makeup and clothing. However, it can be challenging to find editors that have knowledge in both arenas.
Yasuo Magazine editors are often divided between fashion and beauty departments. Both have such different atmospheres and end goals. However, I'm hoping that this idea will change, and that there will be no such borders between the two.
Yoko When I ask our readers about what fashion or beauty brands they like, they often know their preferred brand of lipstick, but not their favorite brand of clothing. I've been in the fashion industry for a long time now, and I'm just beginning to notice a general loss of interest towards fashion brands. I often contemplate how beauty brands and editors do a much better job at gaining audience attention.
Yasuo I think the reason why beauty appeals to so many women is because it's fun to test out and research different products. As a creator and developer of cosmetics, I strive to make simple, user-friendly products with an emphasis on play. On the other hand, there are many consumers that really enjoy more complex and developed brands with certain backstories, designs, you name it. The subtle differences and small details are important. CHICCA fans are like that—they know the brand so well that I could probably put them on our product development team.
Yoko In the past, I probably didn't dig deep enough into our fashion editorials as beauty editors do now. I want women to become just as interested in fashion as they are beauty.
Yasuo Ultimately, fashion and beauty are the same, and they need to play off of each other. Beauty does not need to be complicated, nor does fashion. Both fan bases are ever increasing, so the two worlds should collide and come up with themes and stories that unite them.
Yoko When it comes to fashion magazines, the styling always comes first, and the makeup is dictated by the clothing. I was so excited for you to do my makeup today that my outfit selection came secondary to the makeup. It was quite interesting to go about the other way around.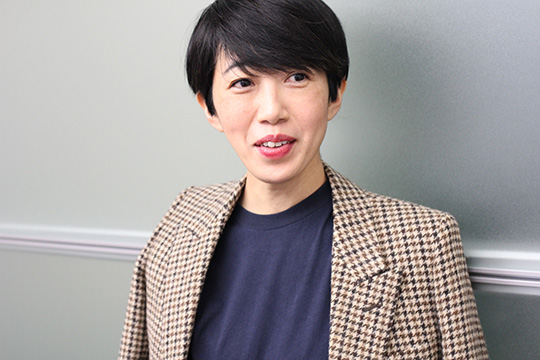 Yasuo It doesn't matter if you start with your face or your clothes, the end goal is always to look and feel as good as possible! Start with whatever sparks your interest that day, and let your imagination run wild.

Growing From The Root
Yoko Out of all the people you've ever interviewed, I probably know the least about beauty. When I first started working for the magazine, I would come into work without any makeup on.
Yasuo No makeup is good! There's no right answer to beauty—it's all about personal preference.
Yoko Yes, but I quickly realized that it's inappropriate to come into the office with no makeup, so I consulted a hair and makeup artist for some tips and tricks.
Yasuo How did you like that experience?
Yoko It was interesting to see how someone else views my face. For example, I don't normally like my eyebrows, but my makeup artist really wanted to highlight them. It made me realize that beauty is different depending on the eyes of the beholder, and that we have to learn to accept and embrace our flaws in a positive way. That's an especially important lesson for young people to learn.
Yasuo I think so, too. You have got to make the most of what you already have. For example, look at your eyelashes: they're short, but quite full. While some people mistakenly believe that having longer lashes is the key, it actually depends on the density of the eyelashes, as well. If you begin applying mascara from the base of the lash, then your eyes will immediately look more beautiful and well defined.
Yoko Typically, I apply mascara all the way to the tips of my eyelashes. Are you saying that it should be done differently?
Yasuo Many people apply mascara to the tips of their eyelashes, but I think it looks unnatural. I like to start at the root and then use my fingers to remove any excess product.
Yoko Wow! That looks completely different. I'll have to try this trick on my own time.
Yasuo You mentioned earlier that you don't know a lot about makeup. Some people follow trends and wear things that do not suit them whatsoever. My advice is simple. Less is more. Don't try too hard and just be yourself.
Yoko I've developed a recent interest in eye makeup, which I feel like is kind of late considering my age.
Yasuo It doesn't matter your age—my advice no matter what is as all-natural as possible.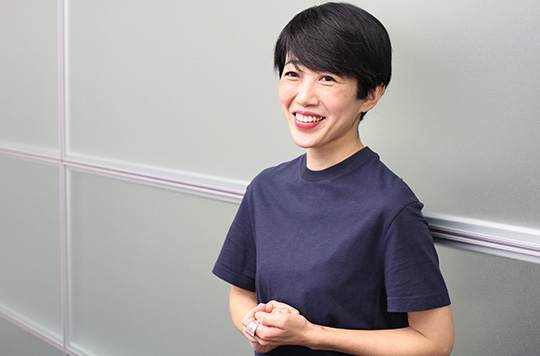 Keeping It Cute At Every Age
Yoko The magazine's changed in many positive and negative ways since I first started working there. The age group of readers stays roughly the same, but people in their 20's and their forms of self-expression have changed. Despite the relatively small age gap, BAILA readers in their 30's and MORE readers in their 20's are totally different people.
Yasuo What do you mean?
Yoko I'm not exactly sure what it is. For example, we now use the word kawaii, or cute, way more than we did in the past. This change might be a good thing though—women in their 20's have a certain kind of cuteness that we want them to embrace.
Yasuo In days gone by, kawaii used to mean cute or sweet. Now, I think the term is much more expansive. When New Yorkers ask me what it means, I tell them it traditionally meant cute, but now encompasses a lot of positive, cool, and beautiful things.
Yoko Exactly, and I think that totally embodies the energy of young adulthood. One of our readers mentioned that she dresses the way she wants to wear now, because after age thirty, your style is expected to change.
Yasuo When you're young, there's such great anxiety about the future and aging. Some people become so against the process of aging, it becomes a stress for them.
Yoko Fashion magazines are certainly interesting. More vibrant and outgoing clothes definitely have a certain shelf life. However, I think you can have fun with fashion at any age and it's all about tailoring looks to your own personal style.
Yasuo Fashion is all about anything and everything chic. No matter what you wear, you have to be confident and own it with everything you've got. If you apply that same principle to the world of beauty, then you can look really nice and sophisticated at every stage of your life.
Yoko Agree. I'm greatly influenced by Naoko Tsuji, who was BAILA's stylist for many years.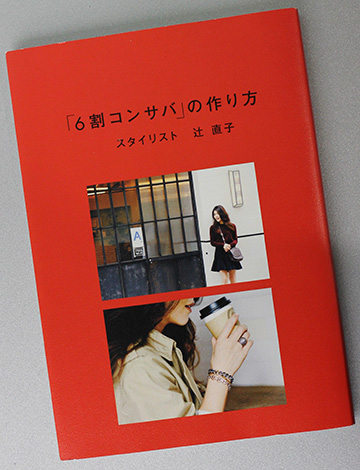 Yasuo I'm really intrigued by Tsuji-san's book, How to Make 60% Conservative, which was published under Shueisha. The title makes me believe that her sense of style is exquisite. Did you edit the book?
Yoko Yes. It was so fun chatting with her about music, movies, fashion, and other various forms of entertainment. She's a fashion stylist with a soft spot for beauty, so she would often discuss how things like the scent of a perfume or a scene from a film would inspire her next look. Although the book came out roughly six years ago, the clothes and styling don't look dated. I learned a lot from her that still resonates with me.
Yasuo She sounds like someone who truly understands the intersections between art, beauty, and lifestyle. I aspire to be that way.
Speaking of inspirations, what are some of your favorite products or items?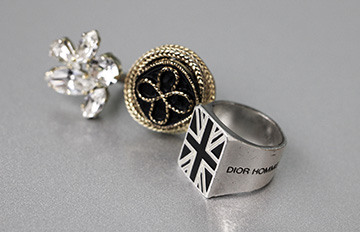 Yoko This ring is from Hedi Slimane, back when he designed for Dior Homme. His creations always fascinated me. The other one is designed by the very charming Midori Yamada. It's made from "gren" and designed after old buttons. I really feel like it goes with any outfit.
Yasuo I really admire the aesthetics of Hedi Slimane. Tom Ford's creations are also really stylish, sexy, and mature. It's cool. This bottle is beautiful.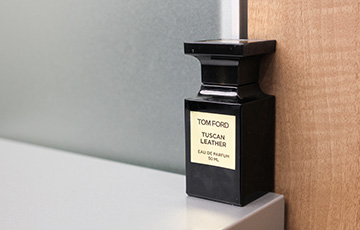 Yoko I love his films Single Man and Nocturnal Animals. I got this perfume as a gift many years ago, and I really like the bottle. Its scent is so distinct and unique, I definitely get a lot of compliments whenever I wear it.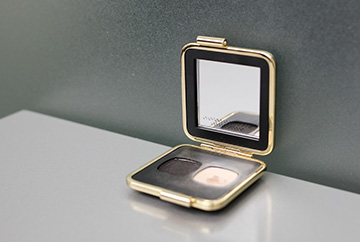 Yoko This eyeshadow is by Victoria Beckham Beauty. I bought it a long time ago at an airport in London. I'm not sure if they still sell these, but I've held onto it because I love the packaging and container.
Yasuo Wow, it's very nice. I've never seen any cosmetics by Victoria Beckham. I really appreciate this kind of packaging—I've made cosmetics before, and it's not easy to make something this beautiful. I totally understand why you might hold onto it! Your eye and appreciation for both fashion and beauty is much needed in this ever changing world.
Photos / Interview :  Yasuo Yoshikawa
Text : Mikako Koyama