Easy Living Is Joyful Living
Yasuo It's been a little over a year since you created AMARC. How's it going?
Naoko It's a lot of work, but I'm having a ton of fun.
Yasuo I love AMARC's encouragement towards easy living and self-expression.
Naoko It's so important to believe in yourself, but also quite hard to resist comparing yourself to others. AMARC tries to embrace the joy of simply being alive. I know that unmixlove values similar things.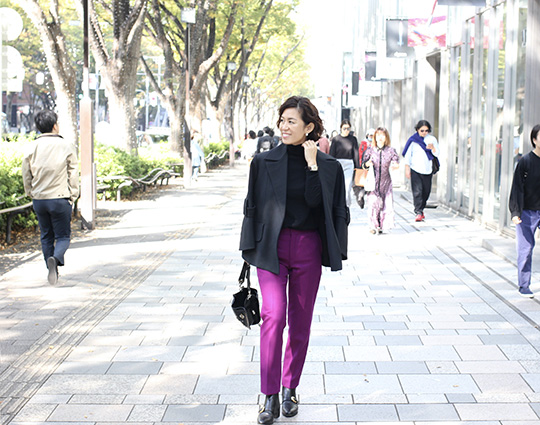 Yasuo I definitely agree with the ways that you connect beauty and fashion, and also feel that it's so important to embrace your unique features.
Naoko Absolutely. Everyone should feel confident in their own personal sense of style, whether it's their clothing or makeup. It's easy to get bogged down by trends and what young people are doing, but for women over forty, it doesn't quite work like that…
Yasuo People are so obsessed with looking perfect. With makeup, I strive for the opposite of perfection.
Naoko That's what we try to teach. If you purchase an AMARC membership, then you'll have access to seminars with top notch makeup artists and styling professionals. It's a really hands on approach that keeps me quite busy.
Watch and Learn
Yasuo How would you describe your personal style? I noticed that watch you're wearing right away.
Naoko It belonged to my grandfather, who's my style icon. It's an incredibly rare JAEGER-LECOULTRE from the 70's. I updated the band to make it more modern. When I showed it to JAEGER-LECOULTRE, they tried to buy it from me!
Yasuo It's great how you incorporate keepsakes into your wardrobe while still paying attention to contemporary trends of the day.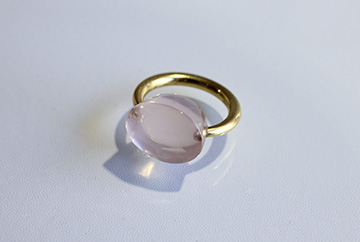 Naoko Thank you! I'm also wearing this rose-quartz ring from MARIE-HELENE DE TAILLAC. It reminds me of candy. This design is meant to touch your skin, and I can feel it's healing power every time I put it on.
Yasuo I don't know much about the healing power of gemstones, but that ring is exceptionally delicate and feminine. I love the color of the rose quartz. Paying close attention to the color and tone of things is important when designing makeup.
Naoko Yes, this particular shade of pink pairs well with gold.
Yasuo I'm always contemplating the differences between warm and cool tones and the different ways in which they play upon each other. In the beauty industry, many people focus on whether or not one's skin is composed of blue or yellow tones. I don't really agree with those guidelines, in fact, I think they can be extremely limiting.
Naoko I think people rely on certain rules in order to make a seemingly informed decision. Really, makeup should be about perspective and personal preference.
Wave Goodbye To The Old Me
Yasuo Whenever I see you in magazines, your hair always stuns me. It's so gorgeous!
Naoko Thank you! I don't really do anything to my hair, it's naturally pretty wavy.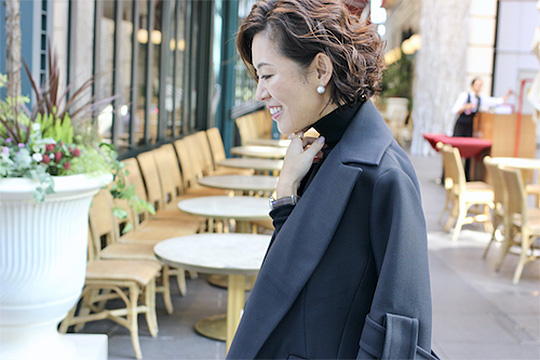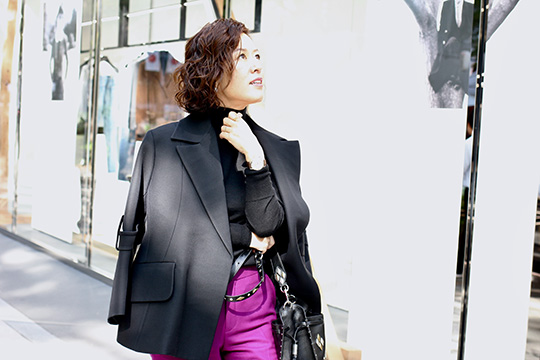 Yasuo Wow! Those are natural?
Naoko I straightened my hair when I was younger, but at a certain point, I grew tired of it and began embracing my natural waves. I need to love what I'm born with, you know?
Yasuo That's a very healthy and productive mindset.
Naoko Well, it took a long time to get here. I haven't done anything to my hair in ten years.
Yasuo Insecurities run deep. It can take time to unlearn them.
Naoko Many people struggle with their hair as they age—certain styles become completely unwearable. It's better to transition to a style that supports your hair's texture rather than return to one that's unflattering.
Shine Bright Like A Diamond
Yasuo Your skin is excellent. How do you take care of it?
Naoko After cleansing my face, I use my long-time favorite, SHIGETA Paris's Precious Elixir Oil Serum with gold, pomegranate, rosehip, and raspberry. My skin glows immediately after applying it.
Yasuo That is such a beautiful product, even I want to try it! It looks like you've just gotten a nice tan.
Naoko I'm always tan. At one point, I was contemplating getting laser skin resurfacing to eliminate blemishes and dark spots, but the doctor told me I couldn't go out in the sun for three months, so I decided against it. The makeup that you've done for me today looks so healthy and natural. I was afraid you wouldn't be able to cover all my age spots, but my skin looks absolutely radiant!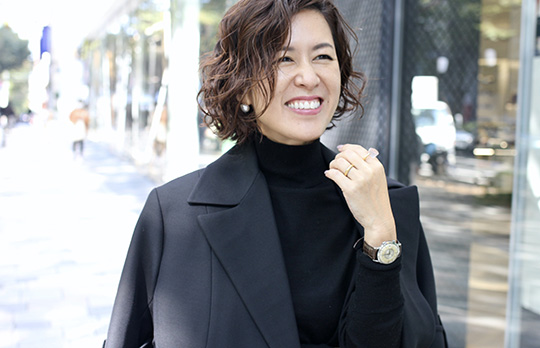 Yasuo You do have some age spots, but your skin's surface is quite smooth. I applied makeup very sparingly—just enough foundation to even out your skin tone without overdoing it. Skin should look supple and radiant and not like you're wearing a mask. Your age spots have turned into rather charming freckles!
Naoko I've always thought that oil is bad for your skin.
Yasuo Well, if you're trying to achieve a more "matte" look, then any excess shine will come off looking oily. Shiny T-zones are often the biggest issue. However, if you create a more all-over luminescent look, then you don't have to worry about oil as much.
Naoko I get it. It's sort of like how shiny hair looks nice.
Yasuo It's also very important to have shiny mascara—eyelashes are hair too! You want them to be long and luminescent.
Naoko Ah, you want to have that sparkle in your eyes.
Yasuo Absolutely. Upon application, mascara has a certain sheen, but it loses it as it dries. I have not yet seen a mascara with the properties I'm looking for, so I'd love to create one myself. I also added a hint of black on your eyebrows today.
Naoko You didn't use that much eyeshadow, but it really made such an impact on my eyes.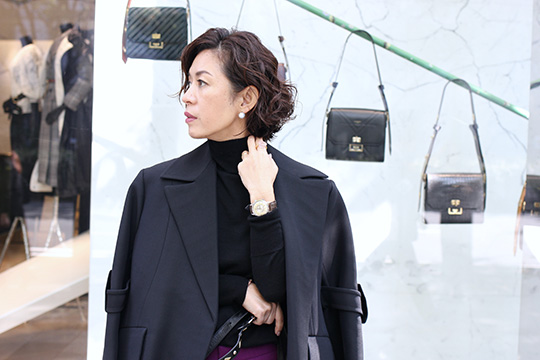 Yasuo Balancing fashion and beauty can be hard. You have such a distinct sense of style, so really only need a little bit of lip color as an added accessory. A hint of makeup will compliment your wardrobe while also showing the true colors of your personality.
Naoko Your makeup is so spiritually uplifting—it really brings out a woman's inner femininity and character. Makeup should do that and only that! I've really learned a lot today.
Yasuo Heavy makeup can look so tacky. You're already so stylish, and have beautiful lips and eyebrows. A little bit of eye makeup can sharpen your entire look.
Naoko So many women can't accept themselves as they are, let alone like themselves. We need to teach them how healing beauty can be when you focus on positive self-expression.
Yasuo That sounds like a great idea. Let's do a seminar at AMARC!
Photos / Interview : Yasuo Yoshikawa
Text : Mikako Koyama
Hair : Katsutoshi Sakaguchi (Sui)