Self-Expression Is the Key to Freedom
Yasuo So, tell us a little more about what it's like working in a newsroom.
Akiko I became a newscaster in my 30's, which by industry standards is quite a late start. I think there's this idea of weather girls being very cutesy, young, and pure. I never thought I would get cast, but I think they chose me because I'm a little different—maybe it was because of my voice.
Yasuo Yes, I've noticed that weather women are quite different depending on the culture.
Akiko I feel like American news women have this image of being very sexy and vivacious.
Yasuo I see what you mean. I definitely think that as a newscaster, you have to be so aware of how you present yourself, including your attitude and facial features. You face the camera head on, so you really have to be on it at all times. I'm in awe of how much it varies depending on each country and station.
Akiko Personally, I cared about how I looked on camera early on, but with weather forecasting, you don't know what you're going to say until that very day. During the typhoon season, I wanted to give myself more time to prep, so I would cut out additional time for my makeup. Generally though, I don't have much time to think about how I look on screen!
Yasuo I think of weather forecasting as being a relatively relaxed and peaceful position, but lately, there have been some serious natural disasters that are quite serious.
Akiko Yes, some types of weather can absolutely be life threatening.
Yasuo How long have you been a newscaster?
Akiko For a total of seven years. I worked in Shizuoka for five years, and the last two in Tokyo. I took a little break and started back up again.
Yasuo You've been doing this for a while.
Akiko My work and my life are completely intertwined – I can't take time off whenever I want. Even though I'm only on air for roughly three minutes a day, I want to make sure that time really counts. When I tried to turn myself on and off from that perspective, I ended up feeling really lost.
Yasuo Do you feel like you always need a public persona in order to keep your job?
Akiko Sometimes. I often contemplate types of clothing that looks good on camera, and oftentimes, they're not my favorite looks. Tighter fitting clothes are often more form-flattering for me; when I find myself in looser garments, my figure looks heavier and wider. But at the same time, I can't come off too sensual in my dress because of NHK's viewership. Fragrance helps distract me from all of these details—it really uplifts my mood and spirits. My personal favorite is Jo Malone's Mimosa & Cardamom Cologne.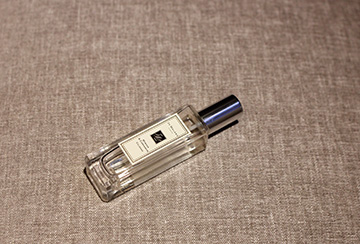 Yasuo I'm sure it's challenging to be judged based on your body. Many people feel insecure about having curves, even though it can be quite appealing.
Akiko You can't change people's impressions of you. These days, I try not to contemplate them that much, and it's made life a lot easier. Nevertheless, styling myself will always be a challenge. I dream of being able to pull off a simple white T-shirt and jeans look, but whenever I try it, I always look like I'm an event-worker in uniform.
Yasuo That can be cute, too. No?
Akiko I suppose so. Most magazines emphasize that simplicity is key as you get older.
Yasuo There are so many ways to wear a T-shirt though! Not everyone wears one the same way. I understand though that you're a newscaster and not a celebrity, and so that occupation comes with specific preconceptions. Can you wear what you want on your own time?
Akiko Well, I can't just go out wearing whatever I please and completely ignore the public's opinion.
Yasuo Morning news is the same on basically every channel. I think people get a certain comfort though from seeing the same person each day.
Akiko I'd like to think that people tune in to watch me because of my character. I like beauty and fashion and enjoy getting to experiment with both through my job.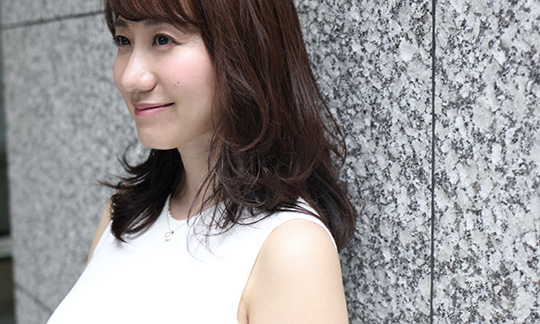 Taking Time for Self-Reflection
Akiko My schedule is more balanced now, but for many years, I woke up at 2:00 a.m. and reported to work by 3:00 a.m. I used to cry on Sunday nights before the work week began.
Yasuo It was bad enough to make you cry?
Akiko Whenever the sun started going down, I would dread the thought of going back to work in the middle of the night. Being a news reporter was my dream, but I lost sight of that and the work became increasingly difficult. I was barely getting to work.
Yasuo Doing the same thing over and over again can be exhausting, especially with those crazy hours.
Akiko Somedays, it felt as though my brain was working at only 20% capacity. Eventually, I got an opportunity to work behind the camera. Supporting others on screen helped develop my new perspective, which is that positivity is key in an industry like this. Finding joy in the work uplifts the entire staff and promotes teamwork.
Yasuo Oh, I agree. You have to find that sense of joy in order to succeed at any job.
Akiko I will admit though that I definitely doubt the career from time to time.
Yasuo Ambivalence is a natural feeling. I often find myself wondering what else I could do with my time and what other goals I can push myself to achieve with my career.
Akiko Last year, I took six months off in order to do an inventory of myself. I was getting so hung up on problems of all different sizes, and I wanted to become more solution oriented.
Yasuo What did you do during that time off?
Akiko I realized that in many ways, my job prevented me from seeing myself clearly, so I wanted to get back in touch with my own desires.
Yasuo It's fantastic that you took that break when you most needed it.
Akiko I agree. I used to love makeup, but over time I became more disenchanted with it. I hated my skin and became so frustrated with aging. Going on air, even for three minutes, felt like a huge ordeal that required a lot of concealment. During my time off, I recognized how detrimental that belief is, and started getting regular facials. Now, I pay more attention to nourishing myself inside and out. I drink this supplement, ORBIS DEFENCERA, which helps keep my skin supple.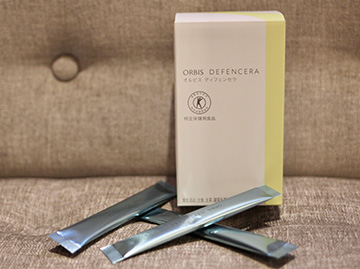 Yasuo You have really nice skin.
Akiko Your book really changed my opinion of my skin, but I still can't let myself go out without foundation. I have a huge fear of exposing my natural texture, so I always overapply. It's a hard habit to break.
Yasuo As soon as you view foundation as a mask for your skin, it stops being effective. Keep up with your skincare routine, and once you feel that your skin is looking the way that you want it, then try applying a more sheer coat of base makeup. It also helps to look at yourself fresh-faced in the mirror in order to identify the more appealing aspects of your face.
Akiko I'm insecure about my entire face, though!
Yasuo In Japan, many people are insecure about their nose being too flat or too wide and round. Overseas, people fear that their nose is too long. Although they seem like different issues, the underlying insecurity is still the same. Rather than thinking about what you don't have, you should embrace what's working well for you. One hundred faces will all have one hundred different qualities, and that's what makes you unique!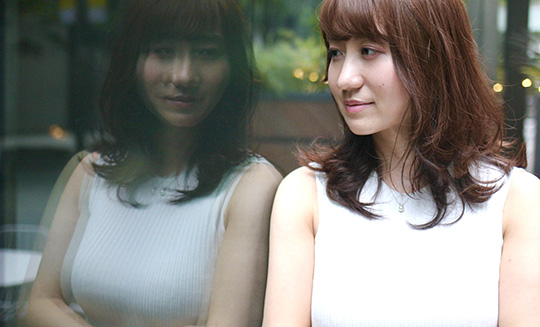 Akiko I guess it all depends on my own perspectives.
Yasuo You're the only person who knows yourself inside and out. Not even your parents or your partner can truly know you as you are one hundred percent of the time.
Akiko Embracing yourself can be hard. I took some time off this year in order to explore some deep personal issues. I'm extremely busy nowadays, but I don't feel as stressed out as before. Although I have a noon and evening airtime every day, I've grown to enjoy the challenge of dressing and preparing for work.
Natural Is Necessary
Yasuo Earlier you mentioned your tendency to use too much base makeup.
Akiko Yes, because I want to conceal my imperfections.
Yasuo I think that's fine, as long as you use a shade that matches your natural skin tone. You end up looking too heavily made up when you don't try to blend the color with the natural tones of your face and neckline. It's important not to make your face look too powdery because then it will not match your neck. If you match the foundation shade to your natural skin tone, then the coverage will not be as obvious. When I apply foundation on people, my main goal is to make sure the face matches the neck while eliminating underlying redness—that's all.
Akiko So, the trick is to make it look like you're not wearing foundation at all?
Yasuo My personal belief is that even if you want to hide imperfections, your skin should still look healthy and luminous. Makeup is about enhancing your natural look, not distorting it.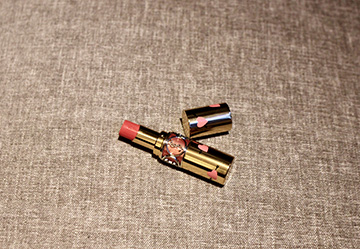 Akiko Last year, I bought a new lipstick Yves Saint Laurent's Rouge Volupte Shine Collector #15. I decided to try it out because it compliments my facial features in a new way. You work with so many different types of women—how do you know what advice to give them?
Yasuo Well, I would say when it comes to everyday makeup, the more all-natural, the better.
Akiko Working in the media sometimes distorts my perspective of things. Reminding myself that I need to focus on my own interests and goals outside of the status quo helps keep me grounded. Only then can I let my true colors shine through.
Photos / Interview : Yasuo Yoshikawa
Text : Mikako Koyama