Finding Inner Peace
Yasuo How do you like living by the sea?
SAKURA I love it. This place is my second home. I've been using it as an on-location studio for certain brands that I collaborate with, and I'd love to use it for events as well, so I've named it Studio S.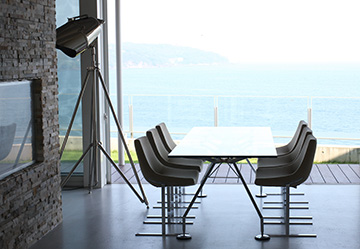 Yasuo I lived in Brooklyn for a very long time. City life can be quite stressful, so I'm sure it's great to have an escape. There's nothing quite like waking up to the sound of birds and relaxing in the garden.
SAKURA Nature is incredibly refreshing. I live in Tokyo during the work week, so I often come here for a weekend escape. My days are usually very busy and stressful. I grind my teeth, so I wear a mouthpiece when I go to sleep. I've also been experiencing bad hives outbreaks for about a year now.
Yasuo A whole year?
SAKURA Yes. I've really had to pay attention to my body and what I'm putting it through. I recently discovered Elite Natural's Organic Cold Pressed Drinks. I also love the herbal beverages from Cordial Organics. They've definitely strengthened my immune system.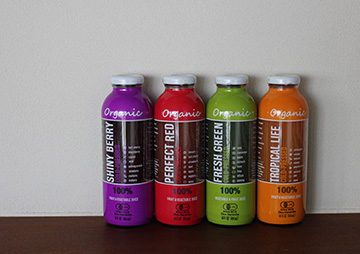 Yasuo You can't just go on forever without listening to your body! I'm glad you were able to realize that.
SAKURA I know, but I have this inherent need to keep going. I've been running around my whole life, modeling overseas, everything. I'm tough and love challenges.
Never Be Afraid to Strut Your Stuff
Yasuo How old were you when you first went to Paris?
SAKURA Well, it was in 1989. Japan was in the middle of a bubble economy. By that point, I had already starred in numerous advertisements, but weren't any international editions of magazines, such as Vogue Japan. I really wanted to be in Vogue and walk on international runways. So, I took matters into my own hands and traveled to Paris and Milan.
Yasuo Yes, that was the height of the supermodel era.
SAKURA I was signed to the same agency as Carla Bruni, supermodel and wife of the former President of France. One day, I was visiting my agent's office, and she stopped by. She flung open the front door and said "Bonjour!" I remember she was wearing this Chanel suit with a matching mini-skirt and jacket and carrying loads of shopping bags. I was wearing a white shirt and jeans, which was the typical uniform for Japanese models at the time. That moment solidified my idea of a supermodel, and I found myself wanting to wear Chanel suits, too. After I left Europe, I kept modeling full time, but began wondering what other options the world could provide me.
There was a period where I had no idea what I would do after modeling and was left feeling quite anxious and insecure.
Yasuo You went down a completely new career path.
SAKURA Yes, I did, and I've been a journalist for over eighteen years now. But I truly believe that modeling and beauty journalism go hand in hand. Modeling helped me understand beauty, and the beauty industry, on a much deeper level. When I first started out as a journalist, I really wanted my own monthly column. I've had one for a long time now, even though I did not start off as a professional writer. Writing my own stories and truth helped me get to where I am today.
Yasuo You have so many valuable life experiences, and yet, you're still so enthusiastic about cultivating even more.
SAKURA Life requires so much juggling: there are always immediate problems that need to be dealt with, and then there are your long-term goals. This work requires so much energy, but I'm always getting to the next step because I never give up. Transitioning from modeling to journalism was not an easy feat, but thirty years later, I'm still here because I work hard.
Yasuo I think that's an undeniable fact.
SAKURA I can't necessarily say that I'm confident, but I never quit. Despite the stress or adversities I may face, I love this industry and am convinced that I was made to thrive in it. So, I tackle every obstacle head on.
Yasuo And to think that you used to be a top model.
SAKURA You are nothing without growth. When I started writing, I had someone help me edit and rewrite for six whole years as I learned the craft. Shortly thereafter, I decided to teach at the university level. The challenges that I take on make me who I am.
What Doesn't Kill You Makes You Stronger
Yasuo Are you still teaching at university?
SAKURA No, I recently stopped. I taught every Friday for ten years.
Yasuo I remember when you invited me to your class as a guest speaker. Even if it's only once a week, teaching seems like such hard work.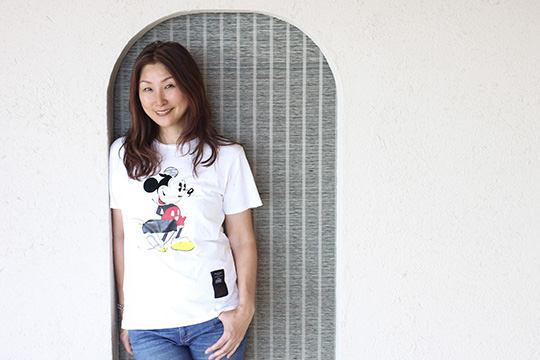 SAKURA When I first began teaching, I would get so nervous and forget what to say. I frequently cried out of frustration and felt so inadequate. But I couldn't quit: I had made a commitment once a week and told myself to stick with it. After a while, I naturally settled into the role, and began to realize how special and pure the students are. I get energy from just being around them. Teaching is such a nurturing and rewarding process.
Yasuo It was probably a big adjustment from your modeling career.
SAKURA It's challenging to come up with a topic for a weekly ninety-minute seminar. But good teachers also learn alongside their students, and I fell in love with my ability to grant understanding to others, and hopefully inspire students to pursue their dreams.
Yasuo Young people in college are very curious—they always want to hear the opinions of professionals. They resist listening to their parents, but they still want role models and mentors to learn from.
SAKURA We frequently studied the history of certain brands, including their marketing techniques and their future goals. I often teach through a very personal lens which draws on my own life story and what I saw throughout the course of my career.
My class loved when you came to speak. Hearing about your background, history, and examples of work, especially what you were doing as CHICCA's creative director was particularly inspiring to them.
Yasuo I'm sure students loved your class because you spoke from your own experiences, not from textbooks.
SAKURA It was such a fantastic experience. I taught for ten years and never once got sick. About six months after I stopped, I got a terrible cold that took me a very long time to get over. It proved to me that when you're focused on your passions, you become almost invincible. Letting go of that tension allows your body to get sick, which forces you to relax and rest.
Nobody's Perfect
Yasuo You began modeling at nineteen years old, which opened you up to so many new experiences that other young people don't usually have. Do you feel like it taught you how to dream bigger?
SAKURA I definitely think so. That's always been what drives me—my need to be inspired.
Yasuo I often think about how it's my job to inspire others and expose them to some of the things that I get to see and do. I'm sure you also felt this way when teaching at the university. Your experiences traveling as a model must inspire so many young people.
SAKURA I was lucky to learn so much about life so early on. One of the biggest lessons I learned was that although they seem so perfect on the outside, supermodels have insecurities, too. I have plenty myself, but figuring out ways to overcome them is what matters.
Yasuo Realizing that you're not alone in your insecurities is vital for living a happier life.
SAKURA I agree. I'm so lucky I was able to witness that firsthand.
Yasuo Even the best of the best gets nervous. I once did makeup on Hillary Clinton for a shoot with the photographer Richard Avedon. It was my dream to work with him, so I was very excited, but he had never worked with Hillary. Before she arrived, he was asking me all sorts of questions about her, like "is she scary?" I remember reassuring him that she was a very nice person.
SAKURA Aw, that's so sweet that he asked you.
Yasuo He didn't know me at all, and here I am, this Asian make-up artist that he's trying to get answers from. He wasn't ashamed and didn't walk around with this huge ego. I really look up to him, not only as an artist and photographer, but also just as a person. He's the real deal.
SAKURA What a memorable moment. Everyone experiences moments of uncertainty and self-doubt! At the end of the day, we're all in this together.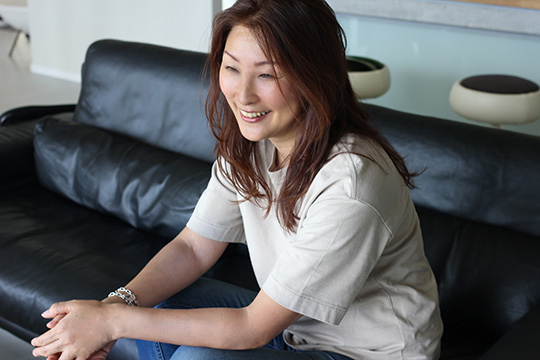 Lift Up Others, And They'll Lift Up You
Yasuo Although I've worked with some of the world's most beautiful women, it doesn't mean that they were that way on the inside as well. Just because you have a stunning face, doesn't necessarily make you an attractive person.
SAKURA Being photogenic isn't enough to be considered beautiful. There's such a broad definition of beauty. It's not particularly makeup or clothes, it's a person's essence.
Yasuo I'm sure people are wondering what you think is the secret to living a beautiful life.
SAKURA My agency represents models, artists, and journalists of all different backgrounds. I'm currently working on producing lifestyle coaching seminars featuring some of my talent. I spent ten years teaching, and I hope to continue doing so on this new platform.
Yasuo Watching those would be amazing. It's so important to hear about other people's experiences, especially what got them to where they are today.
SAKURA That's how I feel about my story and my business. While it's important for a business to succeed, I also want to be authentic and real with my clients, so I strike a balance between the two. I want to keep challenging myself to never give up on my dreams.
Yasuo I feel the same—I'll never stop growing and learning. I'm in the process of developing high-quality cosmetics that are truly a testament to all of the knowledge I've gained in the makeup industry. I can't wait to share them with the world.
SAKURA It would be so exciting to collaborate with you. I feel as though we have such similar values and ideas. We would make a great team!
Photos / Interview : Yasuo Yoshikawa
Text : Mikako Koyama