---
Self-Expression Is the Key to Success
Yasuo What's the most engaging part of your life right now?
Megumi Definitely my work!
Yasuo I can tell just by the way you talk about it.
Megumi When I started this job, I never dreamed of having all of these opportunities. I'm so excited to be creating my own things and sharing my vision with the world.
Yasuo Your ideas are always changing, and it definitely shows in your social media presence.
Megumi Well, there's no sense in limiting yourself. I want to grow and change as a person. I always thought that the end of my youth was the end of my freedom, but I feel more open than ever.
Yasuo We've known each other for the past ten years and I can definitely confirm that you've achieved a lot.  
If I Could Turn Back Time
Megumi Women tend to look at aging as a very negative thing. Interviewers often ask me what age I wish to return to, and I always tell them that I'm happy where I am!
Yasuo That's a great outlook. There's no good in looking back.
Megumi I agree. Sometimes, it's okay to look back and feel sadness over things that didn't turn out as expected. But to feel remorse is way worse.
Yasuo I always try to target what is making me feel depressed right away. That way, I'm not walking around feeling so emotionally burdened.
Megumi I was raised by a single mother. My grandmother used to tell me stories about how my mother would drop me off at daycare in a suit and high heels, then race off to work. When I got divorced and lost a lot of my money, my mom reminded me that a woman should pull herself together, even during the worst of times. Those words gave me the strength to carry on.
Yasuo Wow, your mother must be an incredibly powerful woman.
Megumi Indeed. She always pushed me to take action even when I'm stuck in a rut, and to never give up on my goals.
Yasuo That's a really valuable lesson because so many people often make excuses about why they can or cannot do something.
Megumi Definitely, and that's why I learned early on to always look for a solution no matter what.
Yasuo You responded right away when I asked you to interview for this blog.
Megumi Well, I listen to my gut, and if it feels like a yes, then I get to it right away.
Yasuo Have you always been that way?
Megumi As a young girl, I was incredibly sensitive, and constantly involved in other people's emotions. But with age, I learned to set healthy boundaries, and I can now work closely with others without forgetting my own wants and needs.
Yasuo That can be a hard lesson to learn as a child.
Megumi Yes, very. I went to a private high school for girls, and during that time frame, I was also dabbling here and there in the entertainment industry. My classmates really bullied me, and even burned my uniform. Although it was terrifying, I never let their actions get to me. I think I knew deep down that I was in a different world than them. Their hostility made me stronger, and also helped me realize that I possess some of those same qualities myself. Women have a very specific nature that's hard to explain.
Intellect Over Instagram
Yasuo Do you ever get negative comments from your fans?
Megumi Yes, of course. But rather than let them hurt me, I try to learn from them as best I can. I appreciate the feedback. People put a lot of time and energy into writing comments, so I try to be non-judgmental. As long as I stay true to myself, that's all that matters. In my 20's, I often tried to seem more successful and joyful than I actually was, but I think that's just human nature to a certain extent. Women put up with a lot from one another, but in the end, we are so fiercely strong.
Yasuo I do feel a sort of animalistic energy from women.
Megumi Absolutely. We all have a bit of a thorny side.
Yasuo Women have great intellect and intuition, but it can be hard balancing both.
Megumi Despite the struggles, womanhood can be enjoyable. But I do think that young girls have it quite hard these days. Social media presents so many tricks and tools to change your appearance. You get this sense that everyone else is happier and prettier than you. Growing up surrounded by all that noise cannot be easy.
Yasuo Social media can be all consuming. Even adults have a hard time getting away from it.
Megumi I know, I can never look at social media when I am feeling emotionally low. But as a young person, those mental boundaries might not yet be developed, so you're constantly comparing yourself.
Yasuo My daughter's teenage years were quite challenging. Although she grew up in Manhattan, she ended up leaving and attending a therapeutic school outside of the city that focuses on self-love and care. They didn't give her access to any technology—no phone, no computer.
Megumi It can be hard not to fall victim to self-doubt and self-loathing. I know that firsthand. The thing that really saved me was focusing on self-care and embracing the healing power of beauty.
You have to learn how to support yourself and be your own best friend. I truly believe what I say to my fans because I have lived it myself.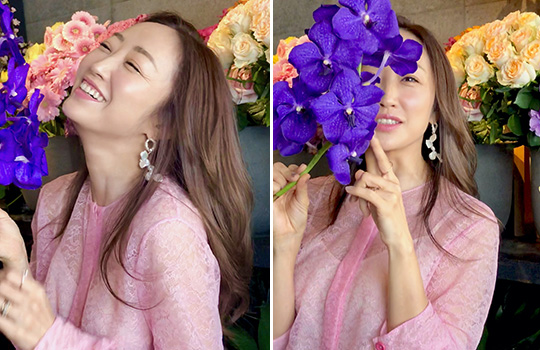 Battle of The Sexes
Yasuo Even though I'm a makeup artist, I realize that there are just some things I will never understand about womanhood. I might do something incredibly different than another female makeup artist just because they better understand a woman's wants and needs.
Megumi I think you have a great feminine instinct. I would say there are many parts of my brain that are more male dominated. I think it's great to strike a mix between the two. You have great takes on female beauty that are quite radical compared to older, more demure Japanese ideals. It's cool to have a little attitude and be perfectly imperfect! What's on the inside is what counts.
Yasuo Forget about looks—above all, you need a partner who is as real as you are.
Megumi Being authentic does matter a lot to me. Women are constantly judged by their looks. I mean, even total strangers feel that they have the right to comment on my appearance. It only takes one stupid comment to ruin your day. For me, it's not about how good you look on the surface, it's about how good you feel within. Self-esteem is critical for success.
Yasuo Men could learn a lot from women.
Megumi The world would be a changed place. I was working and writing at a cafe one day when I overhead a young man's conversation with a friend. He was complaining about his wife's appearance, and how she wasn't as youthful and pretty as another woman he knew. I wanted to say, instead of degrading your own wife, why don't you try and show her respect by taking her on a date.
Yasuo It's important to appreciate your partner, but it doesn't seem like men consider that idea too often. Young Japanese men are becoming increasingly interested in their appearances, even experimenting with male beauty products.
Megumi I can't believe the idea of male beauty routines.
Yasuo These days, I feel as though men are embracing their feminine sides. But on the other hand, you also have the extremely hyper-masculine types. I wish we could find a better balance. Men and women are indeed equal, albeit quite different creatures.
Megumi It's hard to break down those borders, but we can attempt to by sharing positive messages with the world. It's O.K. to be whoever you wish to be.
Funny Little Thing Called Love
Megumi I think compatibility is the key to any relationship. Romance feels effortless when you are able to be truly comfortable and open. Vulnerability is a gift.
Yasuo You're an incredibly strong woman, yet also quite vulnerable and real. You have a way of making people feel at ease with your laughter and smile.
Megumi Laughter makes life brighter. There's nothing wrong with being easy going. In fact, I prefer that personality over someone who acts seemingly perfect all the time.
Yasuo How do you determine how much you like a person?
Megumi If they quickly get in tune with my feelings for them, then I definitely become more attracted.
Yasuo When I look back on my own romantic experiences, I feel like I always end up falling for someone who demonstrates their interest first. But once I feel ready, I'm smitten.
Megumi I feel like a lot of men are like that, especially in their 20's. A lot of people think that all a girl has to do to get a guy's attention is to be clearly flirtatious.
Yasuo Maybe it's time you start giving out relationship advice, too.
When Products Become Personal
Yasuo Have you considered developing your own cosmetic line?
Megumi No, because I'm not a makeup artist. I strongly believe that the development of makeup should be up to makeup artists. There are already so many products and choices. I would rather stick to advising others on what's best for them. Connecting women and the product's creators brings me joy.
Yasuo Beauty advising can be so helpful, especially since companies are biased and always want to sell their own products.
Megumi In order to know the truth, we need people to be in a neutral position. I never accept companies' money in exchange for their product's promotion, although I could make a lot of money doing that. The minute my fans know I'm saying something for money, that's when I begin to lose their trust.
Megumi The very second women apply a product, they develop an opinion on it.
Yasuo Absolutely. It's not about the branding of the product, but its effectiveness.
Megumi There's so much competition in the market now, as well. Developing something really revolutionary is hard work. I've always admired the passion and philosophy behind Chicca for this exact reason.
Yasuo Oh, thank you so much.
Megumi Your cosmetics give older women hope. My mother always comments on how great her skin looks in Chicca. There's nothing else quite like it out there, especially with such a devoted fan base. When it was announced that you were leaving Chicca, so many industry people were saddened—everyone is such a fan of you!
Yasuo I was quite sad to leave the company, as well.
Megumi You have a way of making skin look so fresh and full of life.
Yasuo Thank you, your words mean a lot. I'm still expanding my skills and developing new ideas!
Megumi I'm rooting for you and can't wait to see what you do next. It's fascinating to watch makeup artists create new things. I've met so many talented individuals through this job, and I hope to keep doing it for many years to come.
Photos / Interview : Yasuo Yoshikawa
Text : Mikako Koyama